Restore Tarmac & Asphalt the Easy Way
Tarmac and asphalt are commonly used for surfacing applications due to the many benefits they provide. Tough and long lasting, they also deliver an attractive aesthetic and for these reasons they are extremely commonly used in both the domestic and industry sector. Over time, however, they can lose these qualities and that's when Tarmac and Asphalt Restorer is required.
One of the first things to be noticed when tarmac and asphalt has passed its best is a change in colour. Usually black or red, this can begin to fade and this signifies a reduction in its physical qualities. Tarmac and Asphalt Restorer, available from Greengate's, is the best way to reinforce the surface and bring it back to its original state.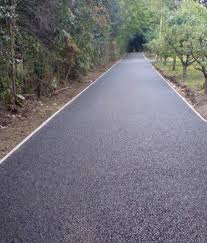 The product works by helping to bind aggregate in place, holding it together and imbuing it with the extra strength required to stand up to constant usage. The lifespan of the surface is lengthened whether it is used for a road, path, driveway or pavement.
Tarmac and Asphalt Restorer comprises a single component which is designed to spread easily, allowing for the easiest installation. Once applied, the formula dries extremely quickly, saving time and allowing the surface to be used without delay. Tyre plucks and flaking cease to be an issue with this excellent product, which gives highly increased resistance to abrasion and impact to prolong the working life of the surface.
UV light has a damaging effect on tarmac and asphalt, causing deterioration of the surface. Tarmac and Asphalt Restorer from Greengate's contains a built-in UV shield which helps to protect it even further, preventing any further damage and maintaining that fresh colour without fading; it also protects against any future staining. The formula has a high resin only solid content and provides excellent coverage of up to 6m2 per coat per litre.
Applying the formula is incredibly easy and usually requires only a single coat. This can be applied using a variety of methods including brush, roller or sprayer. We supply Tarmac and Asphalt Restorer in either a ltr or 25ltr container so you can select the best value option and, as with all of our products, we offer an extremely competitive price.
Greengate's is your local builder's merchant and we strive to offer the best customer service around. Try our Black or Red Tarmac and Asphalt Restorer today!